ISLANDS OF THE MIND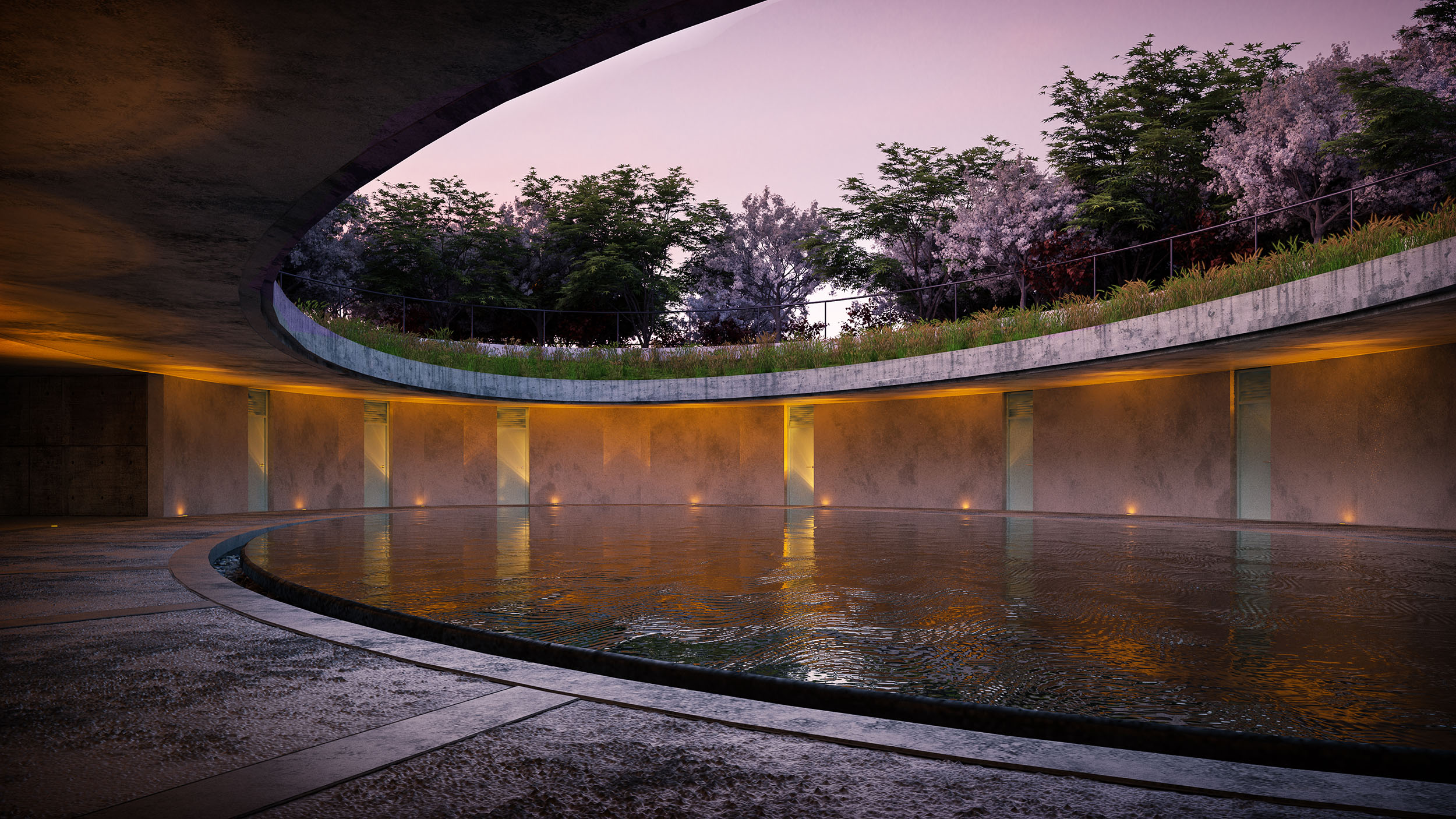 The Benesse House Museum and Hotel (Naoshima, Kagawa, Japan, 1990-92; oval: 1994-95; page 190) is located on an elevated cape at the southern end of the relatively unspoiled part of Naoshima island, in the Inland Sea of Japan. Since regulations Would have required this building to have a pitched roof, Ando placed the structure underground and, by digging into the site, created something akin to an earthwork. When asked if he really views his architecture as a form of Land Art. Ando replies: "That naturally depends on each project. It should be remembered that most of the great examples of traditional Japanese architecture were designed with reference to their gardens. Those monuments are in a sense a version of Land Art before the time of Land Art, "
This indirect response does not fully explain Tada Ando's attitude, but it does once again point to his reverence for Japanese tradition, combined with a great interest in the masterpieces of modern architecture. When asked it there is a difference between a work of art and architecture, or if a building can be a work of art, he says: "I try to make my works as beautiful as possible. I should say, however, when I look at buildings like Le Corbusier's Villa Savoye or certain works of Louis Kahn that I feel that those are indeed works of art. "Ando may not wish to compare architecture and art directly, but other comments that he has made, such as those in his acceptance speech for the 1995 Pritzker Prize, shed further light on this central question: "Architecture is deemed complete only upon the intervention of the human that expe- riences it. In other words, architectural space becomes alive only in correspondence with the human presence that perceives it in our contemporary culture, where all of us are subjected to intense exterior stimulation, especially by the electronic environment. The role of architectural space as a spiritual shelter is crucial. Here again, what is of primary importance are the imagination and fiction that architecture contains beyond the substantive. Without stepping into the ambiguous realm of the human spirit-happiness, affection, tranquility, tension-architecture cannot achieve its fictive vocation. This is truly architecture's proper realm, but it is also one that is impossible to formulate. Only after speculating the worlds of both the actual and the fictional together can architecture come into existence as an expression, and rise into the realm of art." When describing the step-by-step process involved in the expansion of the Benesse House, Ando likens it to an earthwork or to a form of contemporary art. It is also, like his other successful works, very much a "spiritual shelter." Emphasized by its protective stone and concrete walls, this protective function is first evident in the physical realm, but Ando develops it beyond the question of the body to encompass the mind. His shelters for the spirit are in no way dependent on a specific religious belief; rather, they convey a sense of mystery and progression toward a point of understanding, as seen clearly in the Hompuku-ji Temple, for example.
The work on the island of Naoshima has continued actively since the completion of the annex above the original hotel and museum. A nearby fisherman's village to the north of the Benesse facilities in the Honmura area has been progressively involved in the creation of site-specific works by some of the most talented Japanese and foreign artists. Taking over disused houses, some of them dating back two centuries or more, artists such as Rei Naito and Tatsuo Mivalima have made permanent installations that breathe a new life into a traditional town atmosphere. Although Tada Ando is not directly involved in most of these house projects, he is responsible for the most spectacular art installation in the town, the Minami-Dera (1999). Named after the temple that once stood on the site, Minami-Dera is a dark wood building whose interior is in total darkness in order to permit visitors to view the very subtle light effects conceived by James Turrell. Ando here employs the technique of burnt wood typical of the town for the siding of the building. This traditional method of searing the wood ensures that it will not become infested by termites. Turrell's installation, using extremely low light levels, invites the visitor to discover a world where the usual perception of space and time seems suspended, "I am trying to make light a physical experience," Says Turell, "so when you see light it is no longer illuminating other things, it is the thing. like the thing:-ness or light, its presence when it seems more powerful a thing than any object."
Other artists, such as the New York-based photographer Hiroshi Sugimoto, have recently completed installations on Naoshima, and Ando himself continues to be engaged in the next phases of his own work there. On a hillside opposite the original hotel and museum, he created a large underground gallery for works by James Turrell, Walter De Maria, and Claude Monet: the Chichu Art Museum, which opened in 2004 (Naoshima, Kagawa, Japan, design: 08/2000-03/2002; construction: 04/2002-06/2004; page 208).
A second new museum entirely dedicated to the artist Lee Ufan was inaugurated nearby in 2010 (Lee Ufan Museum, Naoshima, Kagawa, Japan, design: 12/2007-01/2009; construction: 02/2009-06/2010; page 224). In 2013, he completed the Ando Museum also on Naoshima, a structure built to show his own work on the island within the walls of an old charred-cedar house to which he added concrete walls and a basement gallery area.
While Tadao Ando resists the notion that his work on Naoshima is in any sense an attempt to create an "ideal" place, he does admit that he hopes to foster the appreciation of art and nature in this context. Like his work on the Rokko buildings, the Naoshima designs have become an ongoing project, a kind of constant in his career, developing and changing as his perception of architecture evolves. These are discreet buildings, if only because in the case of the hotel, its annex, and the new underground gallery, lush vegetation will make them all but disappear from view. These are relatively small projects, but with a real intention to make visitors understand the beauty of the site and the beauty of the art displayed. Art, architecture, and nature become one under Ando's watchful eye. Indeed, few would deny that once they have seen Naoshima, they have had a taste of paradise.
Book: ANDO Complete Works 1975 – Today (Philip Jodidio)
More post about architectures' Tadao Ando: JAPAN PAST AND PRESENT
Share post: